Berlin
On 28 November 2014, we went to Berlin Bahnhofsmission 6 (railway mission 6) at Bahnhof Zoo.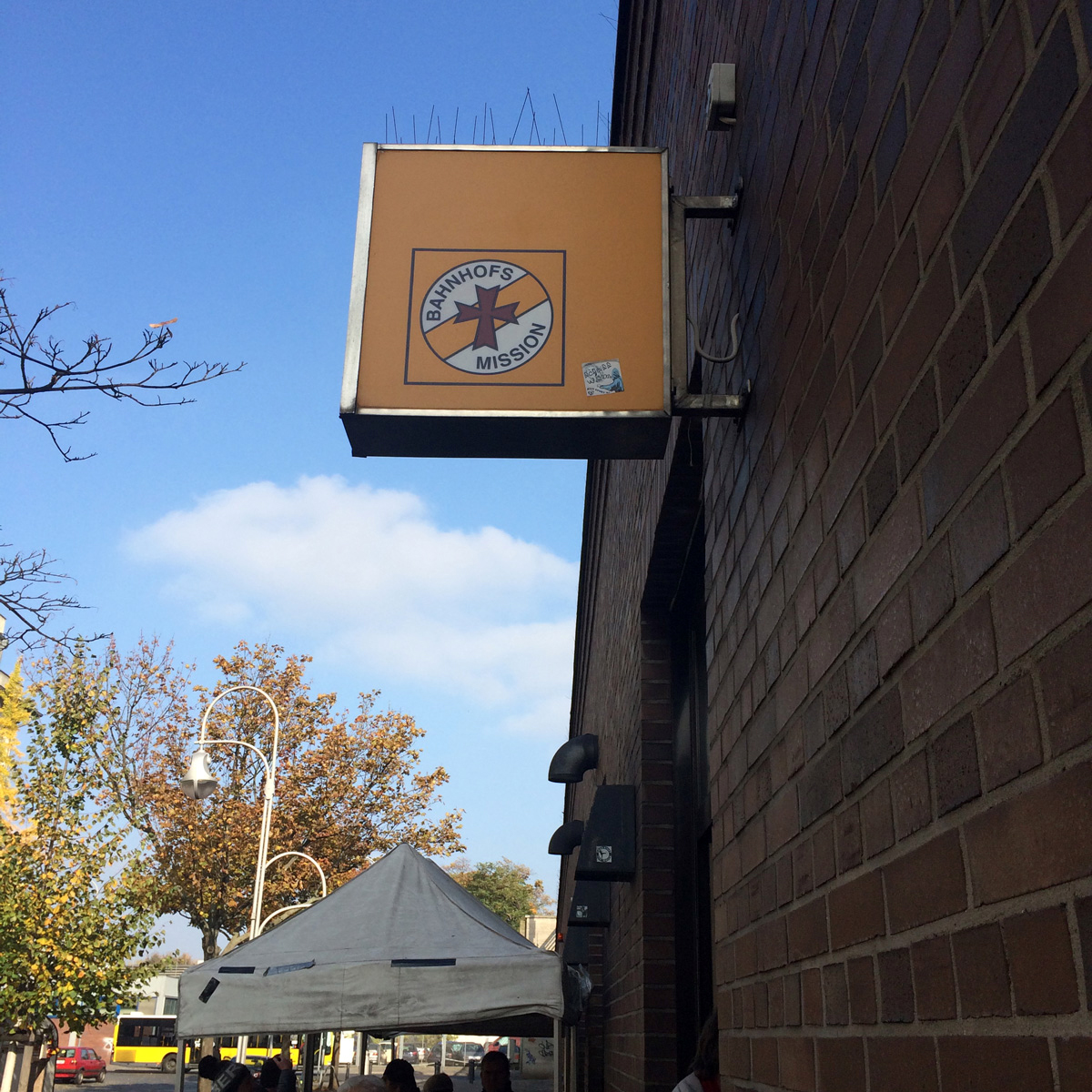 It had become famous mainly thanks to the book and film "Christiane F. - Wir Kinder vom Bahnhof Zoo" (The children from Bahnhof Zoo). The drug and prostitution scene is still very present today on the streets of Berlin Bahnhof Zoo.
We presented our project Roma and Sinti there and displayed our leaflets. The people we talked to were very happy to see that there were people like us who face the challenges of our time - just like they do. We got the impression they felt that out there, there were other people just like them.
This thought gave them courage. Nobody felt anymore that we were just trying to do something good, but that there were also others out there getting involved and giving their best. It was a very emotional meeting between people who wanted the same as us and to give their best.
One member of staff, they simply called "mum", told us, that at the moment many Roma and Sinti were coming to the mission. "Mum" will tell other people about our project. It was incredible what we saw in such a short period of time. There were loads of really helpful people at the mission. We were very sad to see so many poor people here in Germany and that they had to be standing in queue on time in order to get some food.
For a while we stood over the road and watched. We thought "wow". So many people came around to drop of clothes and other things. Many young people went in as well and donated goods in cardboard boxes. We could really sense the community spirit. There are people who are thoughtful of others.
We went on to the Berlin city mission's office where we also presented our project. The people there were very busy but still took time to listen. Thank you so much for that! We were able to give our leaflets to the helpers in the "winterbus".
What is a "winterbus"?

Berlin city mission's "winterbus" or "emergency shelter against the cold" is there to prevent people from freezing to death. Every year from 1 November until 31 March, the "winterbus " and its team look for homeless people who are too weak to reach an emergency shelter by their own means. The "winterbus" team regularly look for homeless people on the streets and drive them, if they want, to a safe place to sleep.
In Berlin, around 11,000 people have no home. They can look just like you and me. It's not at all unusual that someone sleeps on a park bench in summer. But in winter?
We carried on to "Görlitzer Park" where we handed out our leaflets to Roma and Sinti. They were very reserved, almost scared.
Then we went to "Werding Neuköln Kreuzberg". We went to see the catholic housing association in Harzer Straße. On 20 September 2013, this housing association received first price for their Roma integration project in Berlin. We were very excited about going there. We had heard so many positive things about it. But things turned out differently than planed. Tuesday, 2 pm: The office was closed and we hadn't thought registration was necessary. So we had to do our own research.
We very quickly got into contact with the young people as they were curious and wanted to know what we were doing there. We explained our project and they were extremely excited. One girl, Steffi, was especially enthusiastic. She immediately approached us and offered help. We appointed her head of our small Baraq group. Steffi opened all the doors for us. We asked her whether she was happy here. She said no, and said she had preferred it were she had lived before. Her previous neighbourhood had been nicer. We could see what she meant and understood right away.
Steffi asked why we did what we did. Why we were organising a competition for her people? We replied, we wanted people to understand her people better and have the chance to get to know them. We said we loved them. Disbelieving silence. "You love us????" "We do, Steffi! We are doing all of this because we love you." We said they were good people and have a beautiful culture. Steffi could not believe it. She shook her head and repeatedly said "no, no".
It is so sad, she was the mirror image of what she experienced daily. We we able to experience that with her. A man from her building came down the stairs (someone from our country) and put his fist up right in front of her face. He told her to shut her mouth. We asked him what she should keep quite about, and he said that she knew. He left. Steffi was petrified.
They just don't get enough human kindness. Because of this as a child and youth she suffered from low self-esteem. While we were handing out our leaflets, one of the women living in the same house came and asked us what we were doing there.
We told her all about it and mentioned that we thought the integration project was extraordinary. She said, when she moved in, she had believed in the project. But according to her, the project had clearly failed. At the beginning, there were residents from different countries. There were a lot less Roma and Sinti then, than around the 90% there is now. At first, she liked the multi-cultural mixture. But slowly more and more people had moved out. She also will move out. Today, there will be people looking at her flat, as she wants to move out.
Because many people in the house just let their children to do what they wanted, it was very loud.
And these are not just the words of an old woman being a bit oversensitive. Instead, the woman we were talking to, was a young and smart woman. According to her, nobody took care of the people here at all. The integration workers can not cope.
She also mentioned eight people living in a one bedroom flat. Conditions like these couldn't be accepted in a project like this and she just couldn't understand it. And of course she talked about hygiene problems. The fact that the Roma and Sinti had isolated themselves from the others was essentially what was trying to be avoided. It was supposed to be a project of integration.
Unfortunately more and more Roma and Sinti arrived and no other nationalities. That is why the project - for her - had failed.
We handed out leaflets to all the residents. We asked Steffi about what she really wished for. She said she suffered when children in Africa or other parts of the world were hungry and thirsty. It killed her every day. Her wish was to see an end to children suffering from hunger all over. She asked us to write it exactly like this in our blog.
How commendable, so selfless! It was hard for us to say goodbye!
However, we asked ourselves how it was possible, that an integration project had received an award within such a short period of time, within just one year? In September 2012, the integration project "Arnold Fortuin House" was opened, providing 137 flats in eight buildings.
Tomorrow in the afternoon, we will carry on with our journey to Hamburg
All the best, your Baraq team

Hamburg
We spoke to he head of the Mission Sankt Georg and left some leaflets with him. He gave us some good tips about where we were allowed to display our leaflets. Then we went on to the streets and handed out our leaflets in person. There is a difference between the Roma and Sinti here in Germany and in Romania.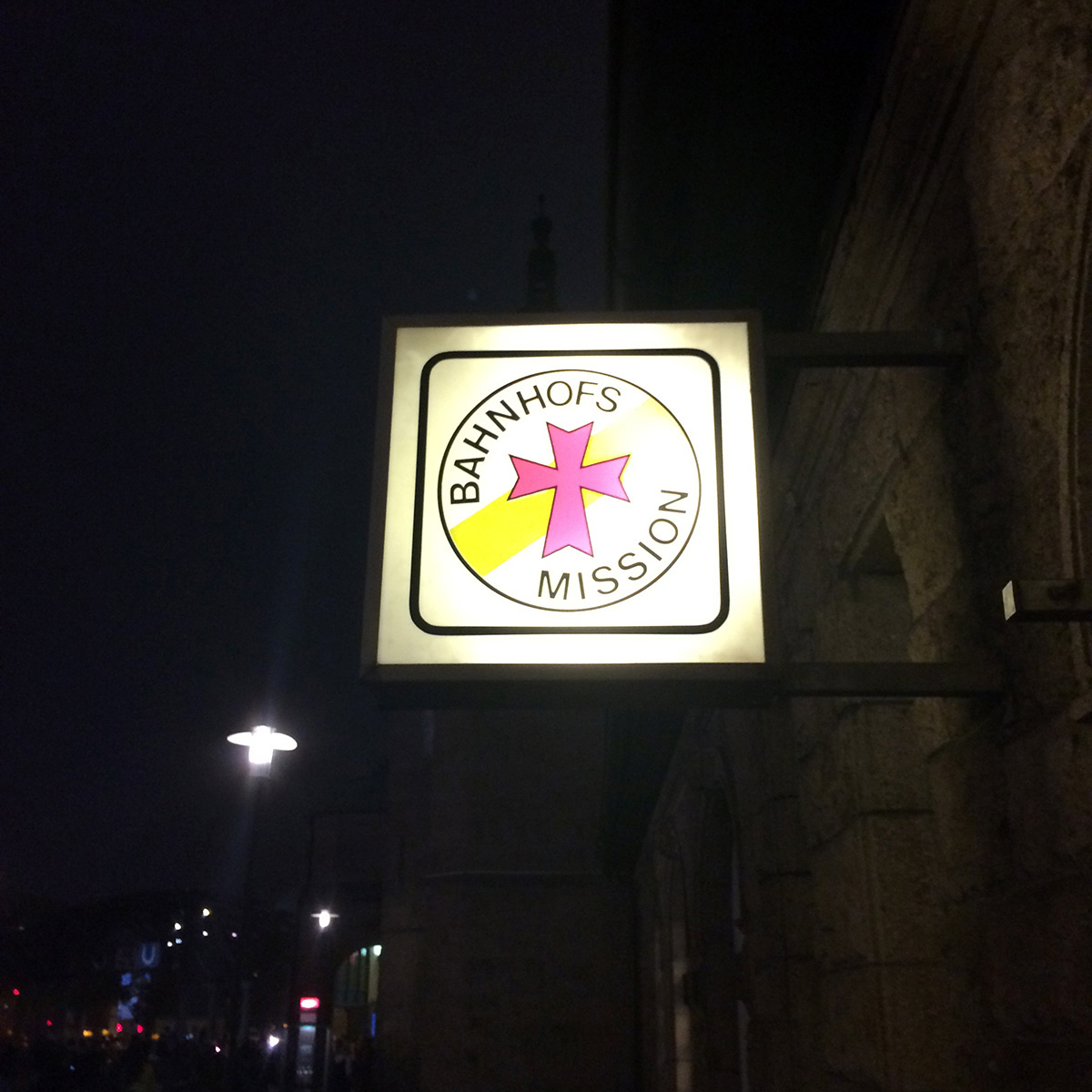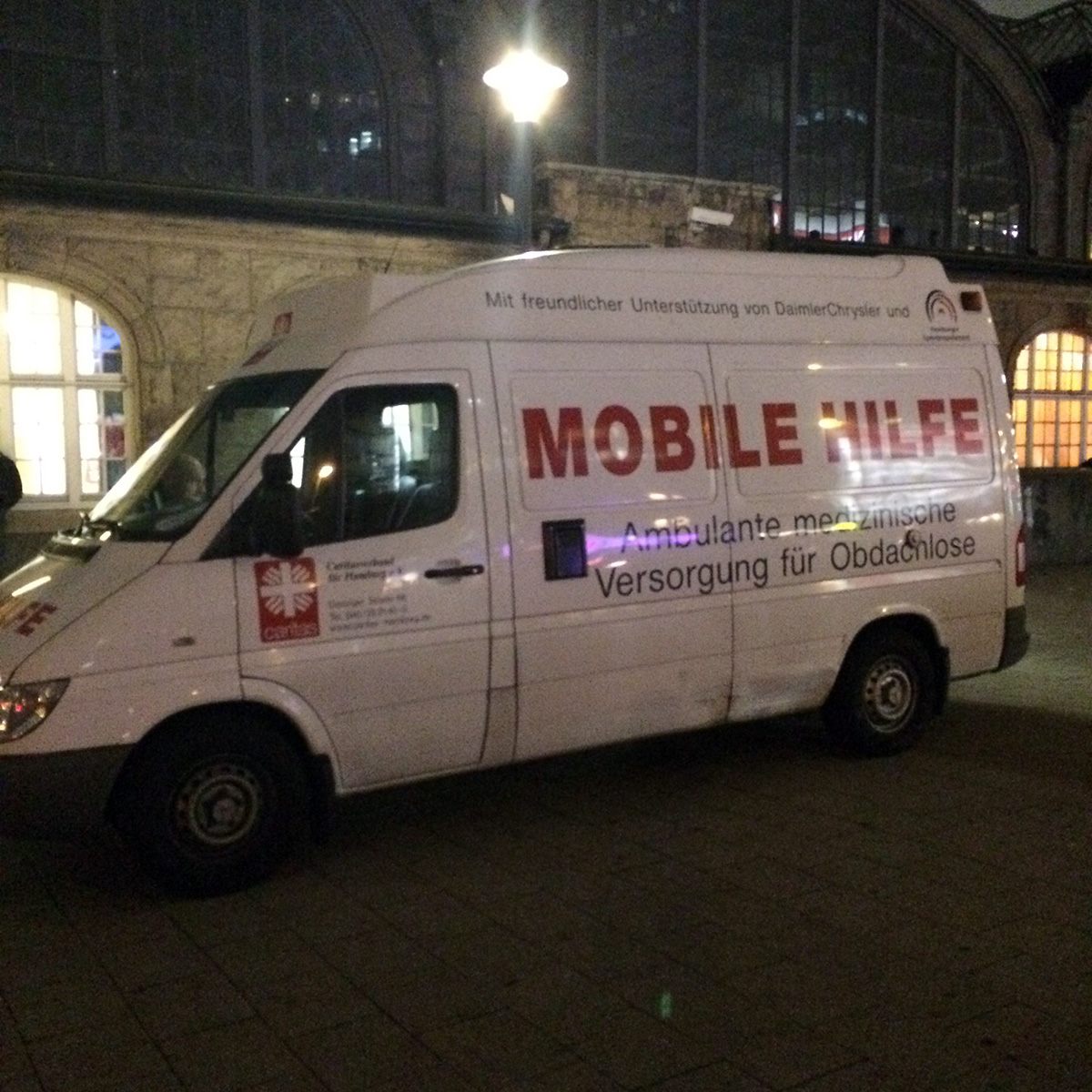 There is also poverty in Romania, but the people seem happier and stronger. They are with their family. We see again and again, that there is a lot of mental stress for them here in Germany. One of them told us, they felt lost. It isn't simply the pressure of trying to survive here in the winter and not freeze to death, but also the one hope that they can send a little money home. He added he would feel like a failure to the family, if he wasn't able to do that. That would break him.
Our conversation was very emotional. A cry from the deep. Out of respect we didn't ask him anything else. We also believed there was no more to ask. There was a moment of silence. As if someone had died.

Düsseldorf
The same night we carried on to Düsseldorf in order to start early the next morning. All the best from the Baraq Team
A new day begins. We handed out leaflets in Düsseldorf city. Soon we realized, that there were hardly any Roma and Sinti in the city and surrounding area. A pedestrian explained to us that the city was doing its best to keep their number low.
So we didn't waste our time and carried on to Duisburg.

Duisburg
After arriving in Duisburg, we went directly to the railway mission. Once again, we presented our project to the head of the mission and asked him to distribute our leaflets. He listened very carefully.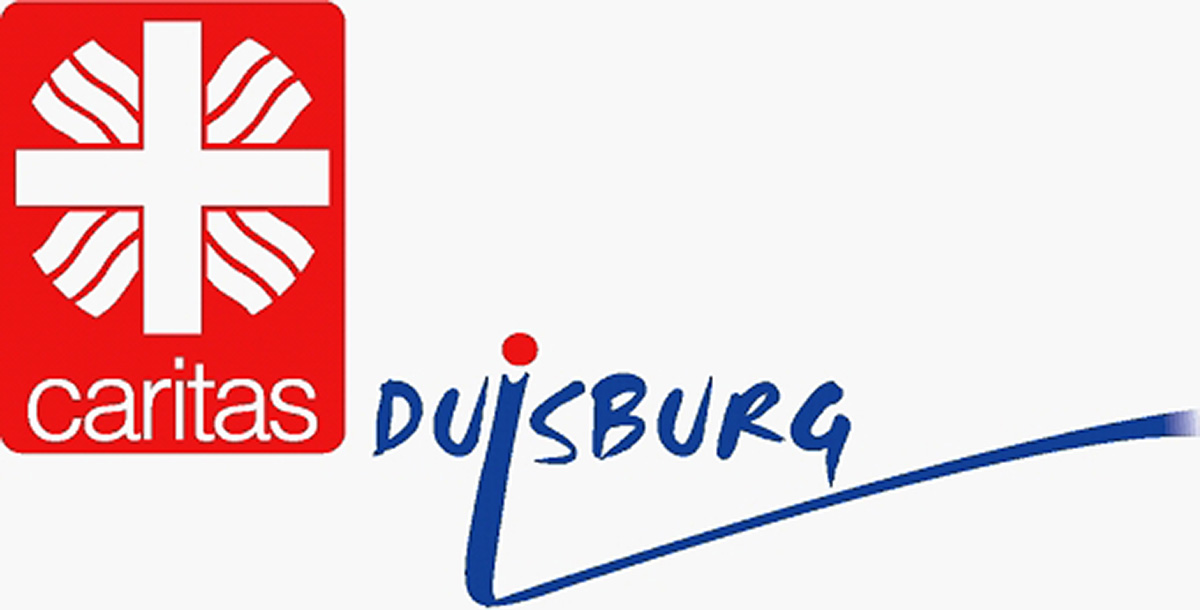 When we got back to the cars, we talked to a taxi driver about directions in order to save time. There were almost 30 taxis, and we don't know why, but we approached the last taxi. We asked him where most of Roma and Sinti hang out.
He gave us some places we hadn't looked at in our research. We asked him to take us there. He agreed, but only if we went to the very first taxi in the queue - otherwise he would get into trouble with his colleagues. We wrote down his name and his taxi number and went to his colleague in front. We apologized and said we needed Mr Walid personally for a job. Mr Walid took us to a suburb of Duisburg to see some Roma and Sinti friends.

When we arrived he got out of the taxi and asked immediately if we were able to help his people, the Syrian people. We were surprised that he knew about our project, as we had not explained anything to him. He had not asked us, why we wanted him to take us to the Roma and Sinti people. With Mr Walid we approach a building with some Roma and Sinti people standing in front of it.
It was obvious that he knew them. We explained our project to them. When the taxi driver saw that the people did not understand us, he got involved. He was very determined. One could have thought he was part of our team. What a nice feeling! We handed out our leaflets and paid for the taxi ride. He offered to take us to Hochfeld. We declined due to the cost. He said, he would take us back to town but would then have to carry on. But he didn't. He came with us to Duisburg Hochfeld. We were very pleased. He made sure we got a good parking spot and did not want any money for it. He spend a lot of time with us and he was like a good omen. When he said goodbye, he took some leaflets to hand out. We were surrounded by Roma and Sinti in Hochfeld.
We handed out our leaflets and also went to a pub. We talked to a lot of people and listened to many different views. For example, an Armenian told us he hated gypsies. He had always beaten them, even as a child. It had always been like that. There were other young people in the pub who were listening to our conversation and got involved."It is not good what you are saying!!" (the Armenian's behaviour). They said he had a lot of Roma friends. There was a heated discussion without result.
In the meantime, more and more men crowded into the square. We also gave them our leaflets. One of them told us, he was from Bulgaria. Bulgarians didn't get any work. Only Roma people got work, that's what he said. He said that if them, the Bulgarians, got any work, they often didn't even get paid. We wanted to know who approached them and offered them work. He replied that it was mostly Turks who came and gave them work, but in the end they never got paid. And if they did get paid, they often got too little, even though a different price had been agreed on. It occasionally happened, that they got paid 2.50 - 3.00 euros per hour. In the end you just got done, he said.
However, the gap between Roma and Bulgarians was growing, he said. Unbelievable! They hated each other - we had not realized that until now - because they believed the Roma were given privilege.
Unfortunately, Mensch ist Mensch e.V. (human is human) was closed today. We still left our leaflets with them.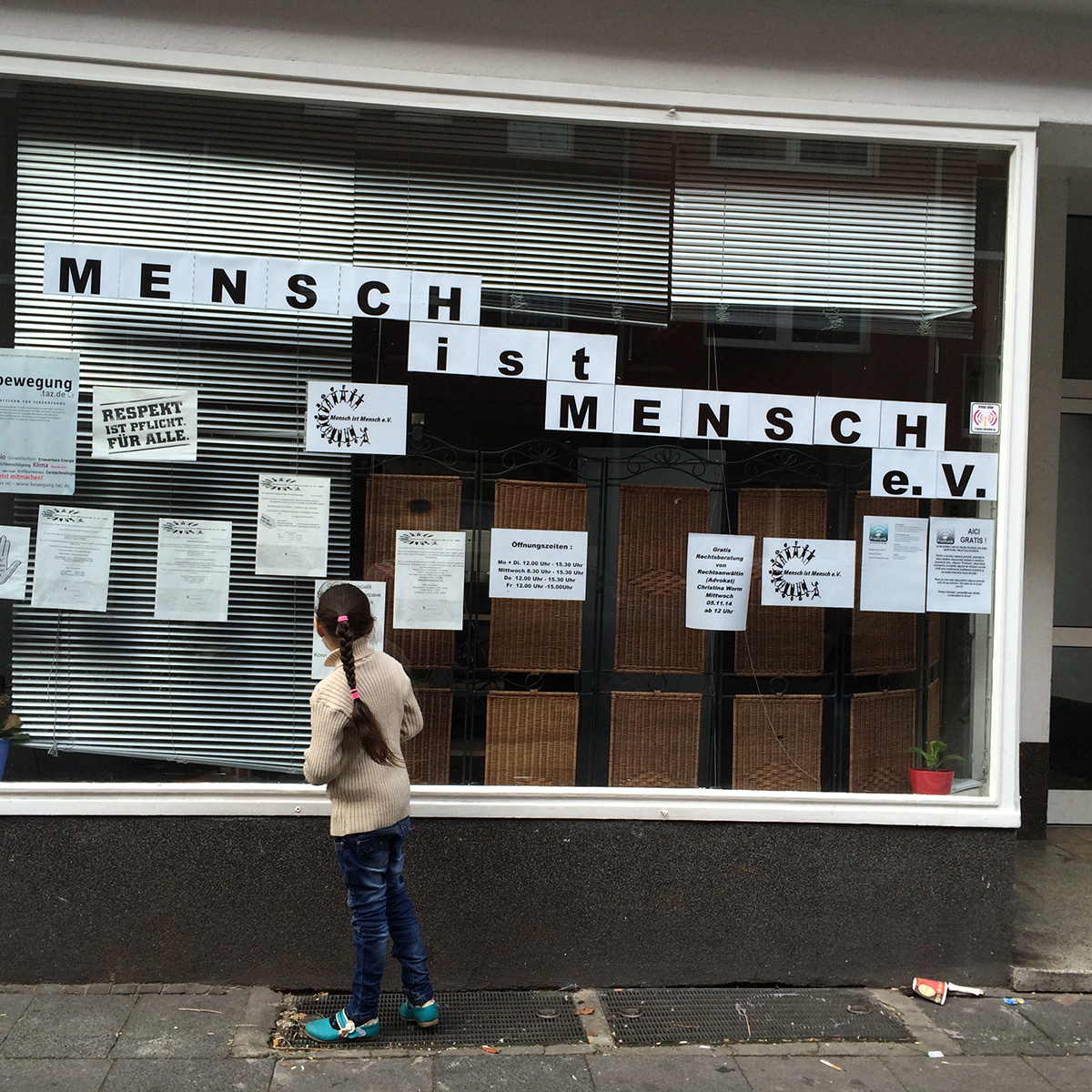 We then went on to meet the association Internationale Initiative Hochfeld e.V. (international initiative Hochfeld). As usual, we explained our leaflet. People really made a great effort to help us. They promised to send the pdf version of our leaflet to other institutions. They also gave us information, addresses and people to contact within associations and youth clubs. Thanks a lot again to Internationale Initiative Hochfeld e.V.. We set off immediately to the new addresses.
The Blaue Haus (blue house) is an organisation for children and youth which is part of, "Vereins für Kinderhilfe und Jugendarbeit in Hochfeld", the Association for youths and children in Hochfeld. Outside, we met some young people and asked them if they were Roma and Sinti. They said they were and we explained the reason for our visit. Their response made us sad. Some of them wanted to throw away the leaflet, as they were Bulgarians. Another said he couldn't tolerate the other Roma and Sinti. We asked him why? He just stood there and said nothing. The others asked us why we weren't organising a competition for their country. We told them why. We asked them if they had any Roma and Sinti friends. Half of the group said they did and would give the leaflets to their friends.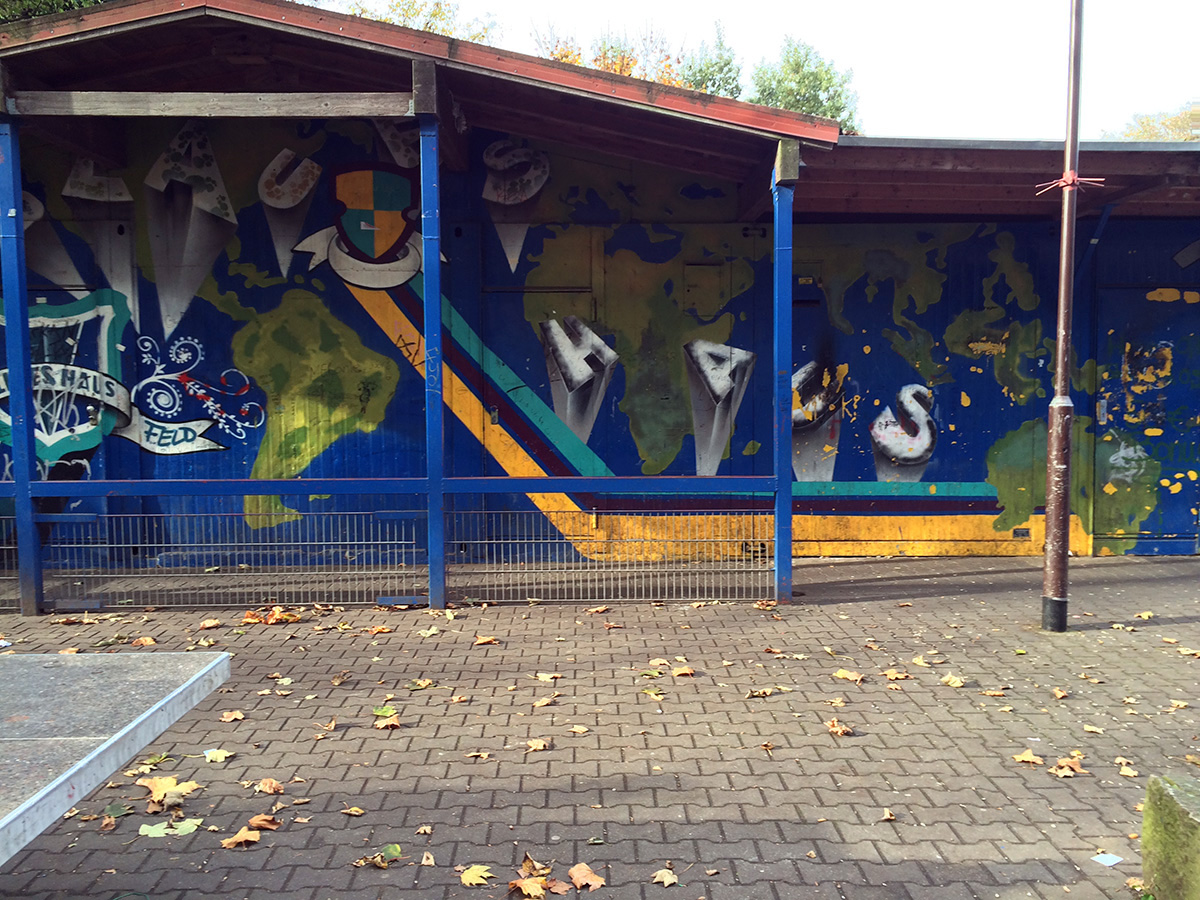 Afterwards, we went to Stadtteiltreff Duisburg Hochfeld (open meeting place Duisburg Hochfeld). People there were also very helpful. We then got in contact with Streetwork Hochfeld and presented our project. We received a list of clubs and associations that were in charge of integration projects.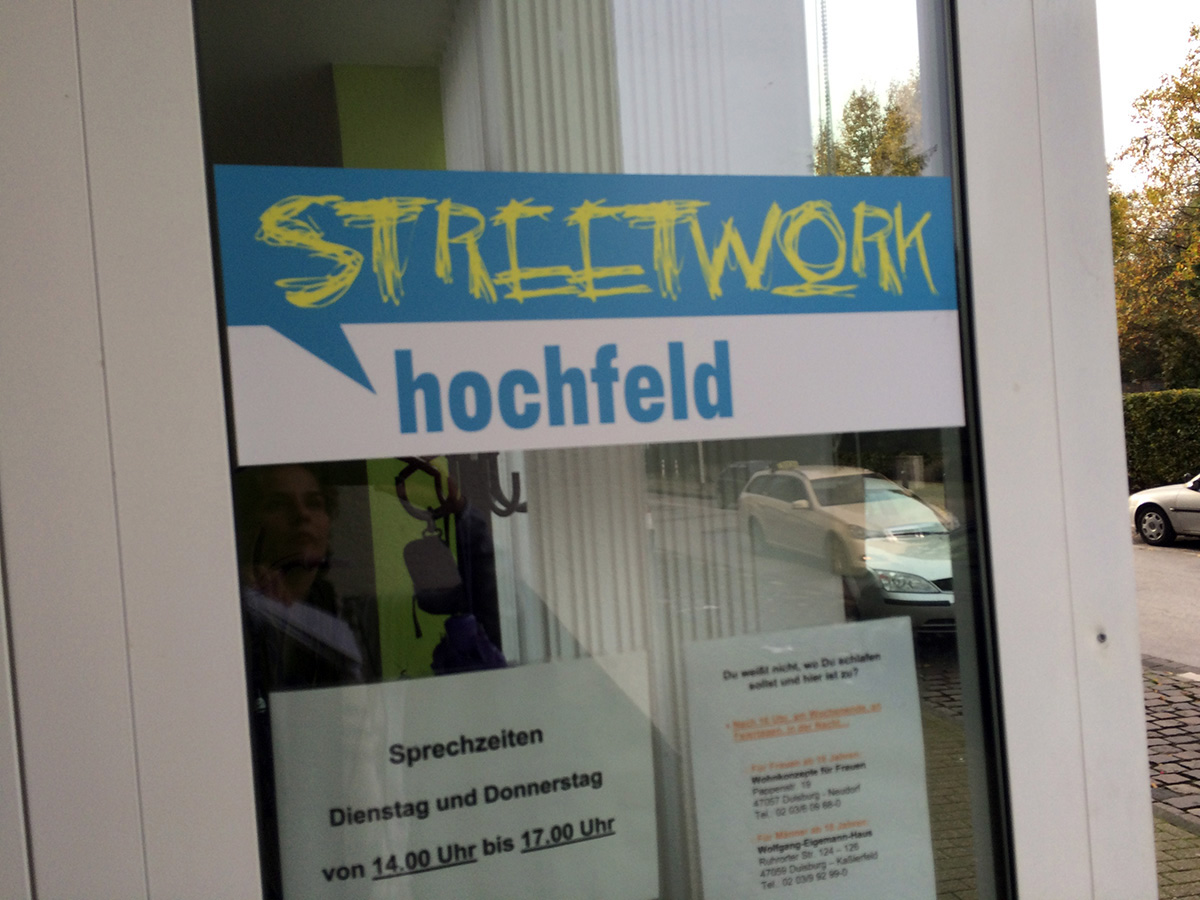 Our next stop was, Die Falken -Sozialistische Jugend Deutschlands (The falcons - socialist youth Germany). Questioning stereotypes: Who is girl? What is boy? A theatre project for young people from 12 to 14 years old.
We also left our leaflets there. Unfortunately, we didn't meet the person responsible directly. However, we will get in contact with him via telephone.
We set off for Cologne.

Cologne
Our first stop was the railway mission.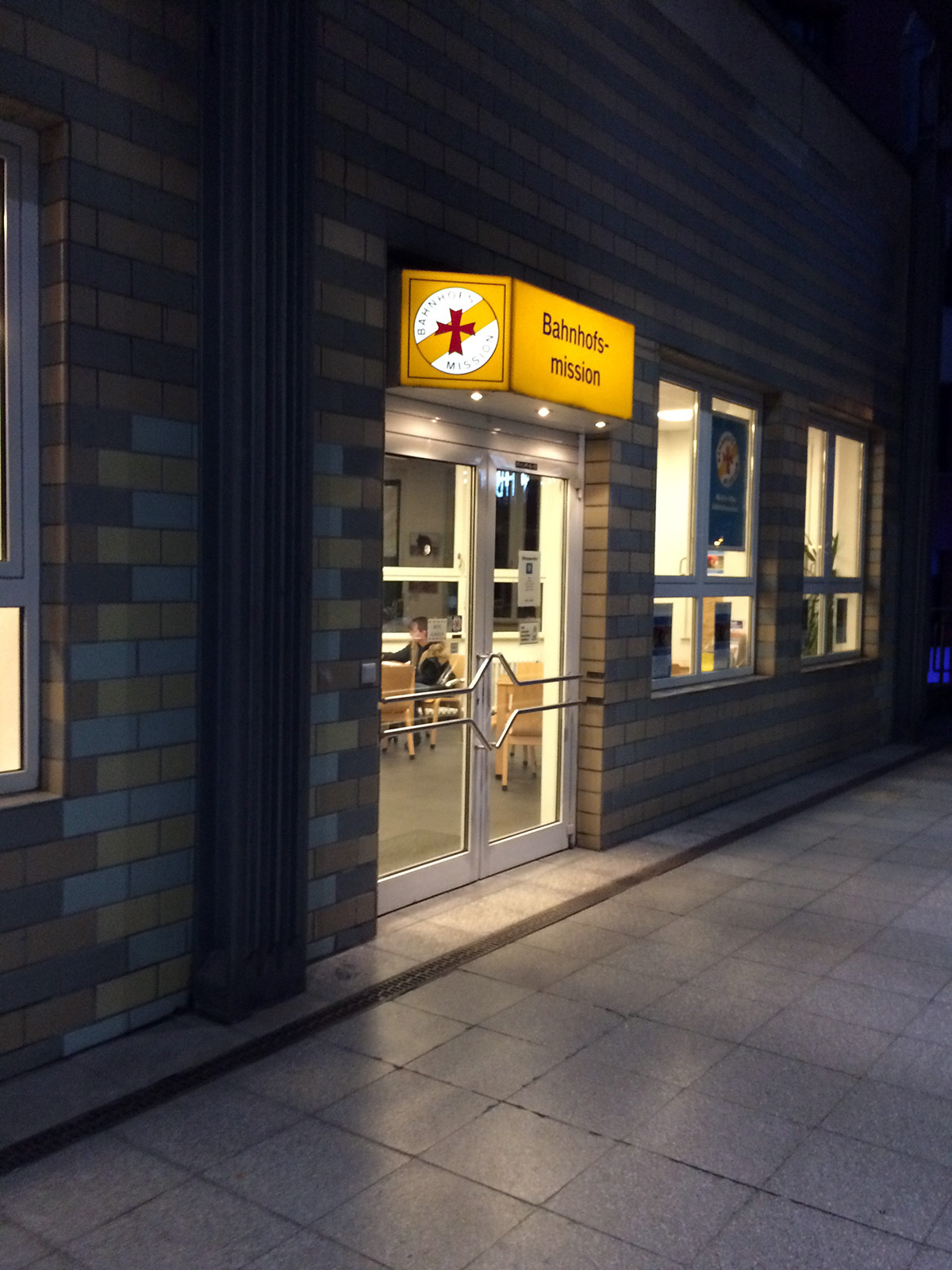 Our project was welcomed with open arms. We were given priceless tips on who could help us and give us some support. We carried on onto the streets to hand out leaflets to Roma and Sinti. Whenever we met Roma and Sinti people, we had the chance to explain our project and advertised the competition. Tired but happy, team Baraq is now driving home.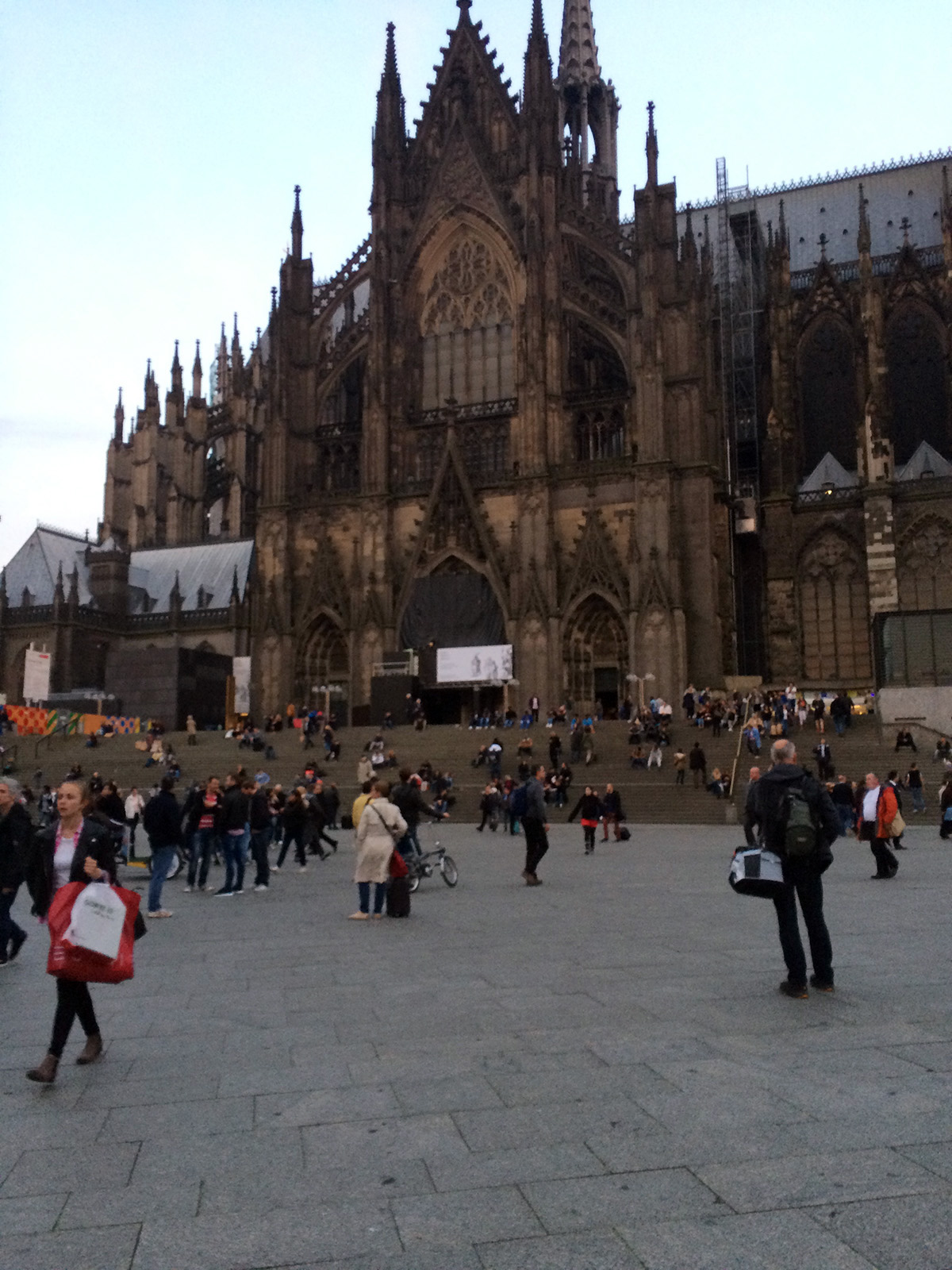 We were able to collect a lot of information and many addresses, and maybe touched a few hearts. We had never imagined our task would be that difficult. We had got in contact with more than 20 Roma and Sinti associations in Germany and had asked them for their support. No one was interested in our project.
While driving home, the following thought came up: What if all the missions, like for example catholic and protestant as well as many other institutions, did not do what they daily did out there on the streets?
It would be unimaginable. The question arose: Maybe one should rethink one's attitude towards paying church tax, but many people associate it with Rome and the Vatican. However, we have now seen church tax from a whole different perspective.

Mannheim
We also presented our project in Mannheim and left some leaflets. Then we went into the city to hand out our leaflets. There, we met some Roma people who spoke German perfectly.
One of them said: "If a Sinti wins, and I - a Roma - loses, I would smack the Sinti's face in. Roma do not want to me lumped together with Sinti, and Sinti don't want to be associated with us." Unfortunately, we didn't know that!!! To make things worse, the following email arrived.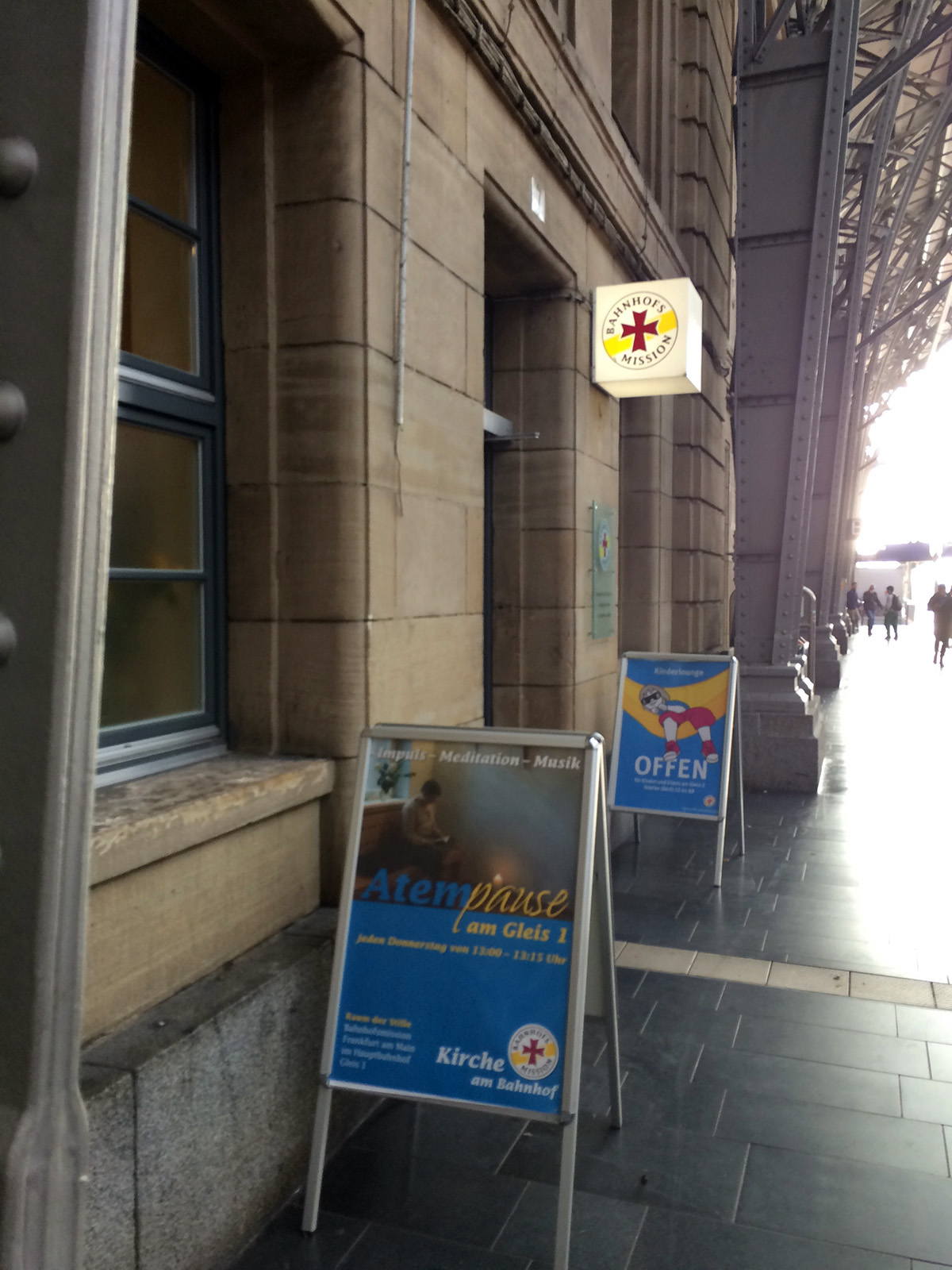 Frankfurt
When we arrived in Frankfurt, we went straight to the railway mission. We felt, the mission was very modern. It made you realise, they had money.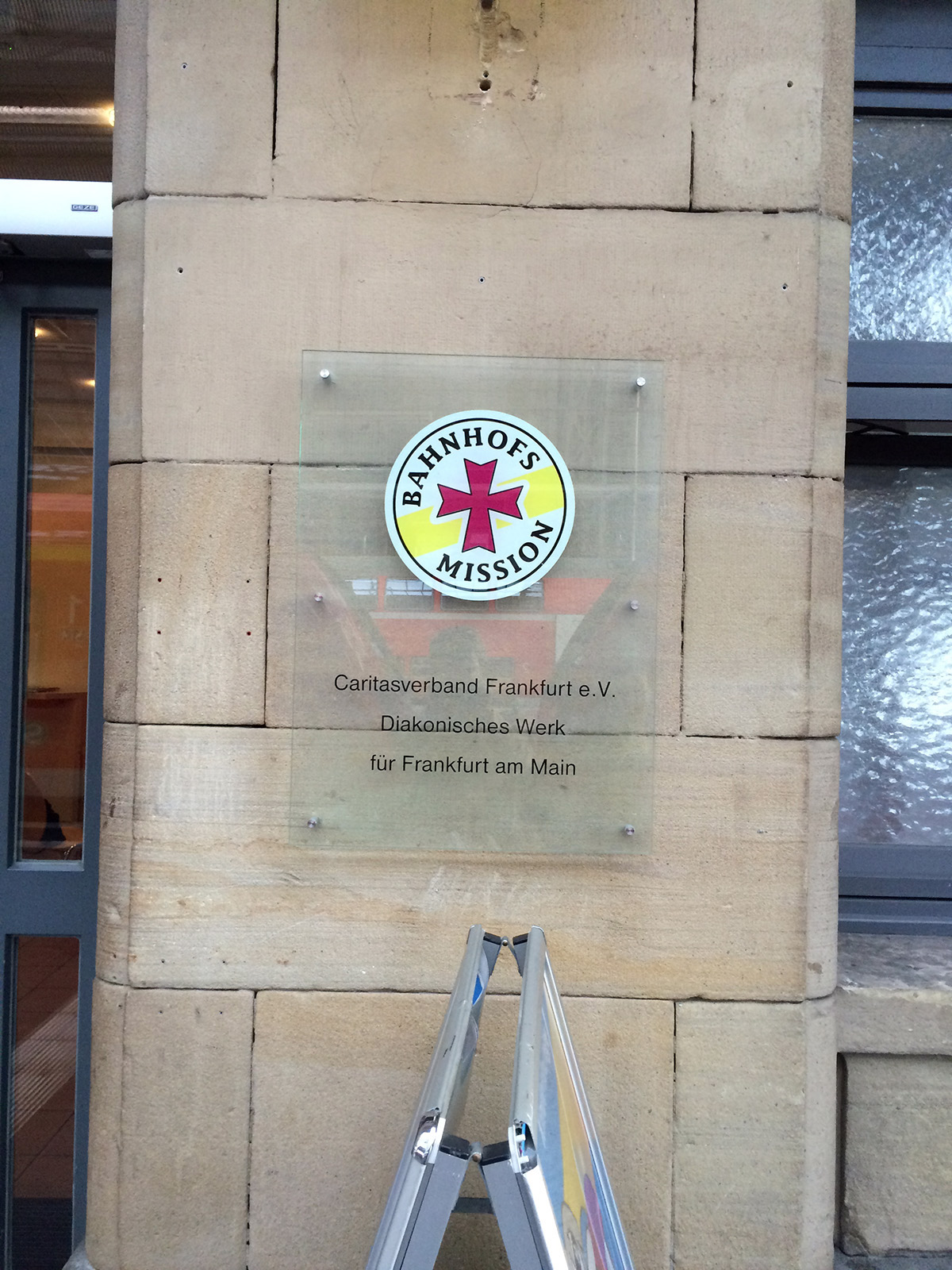 We explained our project and left our leaflets. Then we went out onto the streets and handed out our leaflets in person. Unfortunately, we didn't meet many Roma and Sinti.
Your Baraq Team