Day 1 - Monday, May 12th 2014
At 4:46 a.m. team Baraq (Jannique and Dominique) was on its way to Frankfurt airport by train where their journey to Timisoara, Romania should continue. We were in a good mood and looking forward to our new project.
At 1:25 p.m. we arrived in Timisoara and were expected by Willi Gehring of the German-Romanian Friendship Community in Saarland (Deutsch-Rumänischer Freundschaftskreis im Saarland e.V.) and the Romanian leader of the aid project of the association Lucian Fenesan who would be our interpreter for the next couple of days. After leaving the airport, we were heading towards the small town called Lipova with approximately 11.000 residents about 50 km away. The association helped us to arrange our project in Romania.
We started right after a short recreation break in the guesthouse Favorit, where Nello Braniscan welcomed us cordially. At 3:00 p.m. we visited one settlement in the outskirts of Lipova. Project 'Romanies families'. We met the 'boss' of the settlement who accompanied us. The people here were very kind and showed us how they lived. Very poor of course. No canalisation, no running water. Look at the pictures. They all gathered around us and we explained our project to them.
Everyone wanted to join in and the atmosphere was great. But these people didn't want to be called 'Romanies' or 'Roma', as there was reportedly a schnapps with the same name, but gypsies -thigan in Romanian-.
We have met so many friendly people and our watches were still around our wrists! There are so many prejudices, preconceptions and overall opinions. The doors in our guesthouse weren't locked and in Germany we have to check twice that they are locked.
In the evening we met a good friend of the German-Romanian Friendship Community. Dan Mian is representative in the district Arad. Also present was the mayor of Lipova, Mircea Jicichi. We exchanged opinions and information. The representative and the mayor wanted to know everything about our project and appreciated our initiative and the project itself.
The mistress had prepared a typical Romanian meal and it was delicious! It was a lovely ending of our first day.
Day 2 - Tuesday, May 13th 2014
We had to get up early – breakfast at 7 a.m. and directly after at 8:45 a.m. we drove off to a Romanies settlement in the district Soimos in Lipova. Also these residents gathered around us and we talked to them and explained our project.
Many thanked us and were happy that there are people who remember them and come from far away to create such a project with them. One man told us that there are indeed loads of aid packages for Romanies by the country, but that until now nothing had reached the poorest in Lipova. We have seen the poorest here in Lipova with our own eyes. They seem very sad and lacking in hope for their presence and future.
We wanted to know about the education and the children's school. The children go to school almost regularly because only then the Romanies receive their child benefit in the amount of 10 € per month. The idea behind this is to give the children the basics for their education to take with them for their lives. Including values like assuming responsibilities, getting up on a regular basis, punctuality, cleanliness, writing, reading and so on. Knowledge makes self-confident, flexible and rouses visions for the future.
We left the Romanies settlement after two hours and went back to our guesthouse where we were able to take a break with our friends of the German-Romanian Friendship Community until 3 p.m. when Mrs Doris Pack would arrive after being picked up from the airport of Timisoara by Lucian and Willi. Mrs Pack is a Member of the European Parliament and has engaged herself for more than 20 years with the problems of the people in the Balkans, in Romania and Bulgaria. In 2003, she founded the European Institute 'Aurel Vlaicu' in Arad (approx. 30 km away from Lipova) following the initiative of the German-Romanian Friendship Community. The following day Mrs Pack should receive the honorary doctorate of the university and we were cordially invited by the members of the association to participate in the official ceremony.
But first was the formal reception hosted by the mayor, vice mayor and representatives in the town hall.
Thereafter we visited the basilica Maria Radna, a project to promote culture and tourism funded by the EU. We met the Canon Andreas Reinholz who showed us around the basilica and afterwards we had some coffee and the traditional 'Tuika' together. On this occasion we were able to win Mr Reinholz for our project. He was very enthusiastic about it and suggested to give out our project leaflets on pilgrim's day (September 7 in honor of Mother of God) when hundreds of Sinti and Romanies would come to Maria Radna. How great is that?!
We left the basilica Maria Radna, Marian place of worship for many Romanies families, to go to the hospital in Lipova which is being restructured 'from head to toe' with the help of the German-Romanian Friendship Community, Saarland, who could win a couple of Saarland social service providers as sponsors. It was very impressive how used objects, which were still in good condition, could change a hospital in Romania in such a positive way for the patients. Team Baraq was pretty amazed by the assistance organised and provided by the Friendship Community of Saarland, in the last 25 years. We have a lot of respect for their work! Hereafter we went to dinner.
Day 3 - Wednesday, May 14th 2014
Right after breakfast we went to the University 'Aurel Vlaicu', where Mrs Doris Pack received her honorary doctorate that morning which was very interesting and exciting. The German-Romanian Friendship Community got also honoured, which was a big surprise for Willi Gehring and his friends. For us it was a great honour to be part of this delegation. And of course team Baraq took the opportunity to talk about our project with the dean of the theological faculty. There weren't many Romanies going to university at the time, but the dean told us that he'd arrange that they would learn about this project and he was sure that they would surely participate.
The impressive ceremonial act took place in the auditorium that was filled to the last seat. The atmosphere during the program was joyful and optimistic. Again we were impressed by getting to know how much help came from the Saarland in the last couple of years and in every single speech the gratitude has been expressed.
The ceremonial act ended with a little drink and we were on our way to another Romanies settlement. We drove from Arad to Lipova for a quick clothes change and then to the community Conop in the village Milova, 20 km away from Lipova situated in the valley of the river Mures. There we met the orthodox priest Gisi and a local assistant and aide of the Friendship Community called Tuti, who lives in the settlement with his family. Willi Gehring explained the Baraq project with the help of our interpreter Lucian Fenesan and the priest was very interested and open minded about it. He agreed to organise our project with the teenagers of the settlement and he offered the parsonage and church as places to realize the activities. The circle of friendship will provide pencils and paper as the Romanies cannot afford buying them by their own.
After the conversation we visited several houses (barracks). Due to heavy rain it was partially flooded that day. You could see and feel the poverty of the people. It was very muddy and dirty, but no wonder with the lack of canalisation, water and electricity. We have never seen something like that before and wanted to know over and over again in the following discussions why the government doesn't contribute something to improve the living conditions of this people. And sadly the answer was that the government wants to get rid of the Romanies. The harder their life gets, the sooner the Romanies would leave the country.
At this point we could only be thankful for the effort and help of the German-Romanian Friendship Community because they have already helped to improve their living conditions step by step.
In the evening we met our local supporters and had a glass (or two) of Romanian red wine. But we couldn't just shake off the impressions of the day and that's why we had some more very interesting and informative discussions with our Romanian friends. That evening Willi Gehring handed over a donation to the house 'Integra', a help project for handicapped children. Another Saarland aid project.
Day 4 - Thursday, May 15th 2014
Right after breakfast we headed for the village Covasint, approximately 30 km afar from Lipova. We were received by police chief Ioan Slaina and his employees. He has been a member and great supporter of the Friendship Community for about 20 years and we were very lucky he didn't leave our side the whole day.
We visited the villages' school and gathered in the headmistress' conference room where little by little all the teachers came together. The headmistress was so kind to bring us strawberries from her own garden.
We wanted to know how many children of Romanies attend their school and unfortunately out of 270 children there are only 13 Romanies. It is a 2.500 people community with 25% Romanies. Therefore there should be a lot more Romanies children. We asked where the other children were and the majority is staying abroad, for example in the UK, Italy, France, Spain and/or Australia because it is much easier to get child allowance by their welfare systems. A lot of children don't go to school until they reach the age of 13 because until then they are very useful for there parents because they are exempt from punishment. We were very shocked by this statement and new immediately what they meant.
The girls are forcibly married very early, you can say by birth, and are only allowed to go to school until 4th grade. When they turn 12 they are handed over to their future husbands' parents and have to work in their household where they grow up with their future husband. This is their culture and they know no other way. Like in our culture where you fall in love and where you chose your husband or wife yourself. The boys are allowed to stay in school until 8th grade if they manage to pass. But accordingly to the teachers the boys only come to learn how to read and write so they are able to pass the driving test.
We asked the headmistress whether she enquires about the other school-aged children but their parents always say that they are going to school in the UK, in France or Italy but she never received a written verification. The majority of Romanies just want to be independent; they want to decide themselves what to do with their lives.
After this very barefaced conversation we visited a kindergarten. The German-Romanian circle of friendship had prepared some drawing supplies for the children, purchase value 10 € per child, for Romanian conditions quite some help. Approximately 3.000 children obtain once a year aid in form of drawing supplies or school supplies for schoolchildren.
These supplies are always handed out personally by the helpers from the Saarland to the children in the kindergarten and schools. This time the Baraq team was allowed to be a part of it and it meant a lot to us to look into the happy and thankful eyes of this children.
It would be so important for the Romanie children to go to school. This would be the first step on their way out of poverty. But the contrast could hardly be starker. Why is this way barred for the children? Prejudices, jaundices, cultural traditions, family structures, lacking help from the government –so much has to be smoothed out.
The next stop was at the imposing house of a Romanie baron in Covasint. The Friendship Community had prepared this meeting and we had to declare beforehand not to take any pictures. The baron was a nice, elderly but reserved man in a dark suit. We passed by a brand-new Mercedes on our way into his home. His wife welcomed us very friendly at the door and told us to keep our shoes on against the tradition. She guided us into the conference room which was equipped with precious furniture. He offered us something to drink and after some cordially words of welcome we started to ask our questions.
We wanted to know which dreams he has for his children and grand-children. He told us that he wishes them happiness and health. One of the boys wants to become a lawyer and one of the girls wants to become a doctor. We asked where they were and he answered that they were in France and would also go to school there.
We asked what they were doing there. The daughter works in housekeeping and his son parcels out the newspaper. He wasn't very talkative but still very friendly and we could visit him anytime again if we schedule the next meeting again because he is en route so much.
We said goodbye and drove off to another house in a settlement which was in a far better state than the others we had visited so far. The baron accompanied us with his Mercedes.
We met several Romanies in a nice living room and after the casual chat the interesting questions came up:
What do you think about Germany?
Germany? Germany is a great country- answered the host. -He enjoys staying there.
Why are so many Romanies in Germany?
He answered: Many teenagers work abroad. With the money they earn they are able to help their families at home. And he is very happy to work in Europe as well.
What do you expect from Romania regarding a minimum wage you can live of?
If there was child allowance in Romania like in Germany, fewer Romanies would wander off to Germany. They would start to build small houses in Romania. He further told us that his mother only gets a 30€ pension which she entirely has to spend on her medication. Another man told us that his pension is 70€ but the retirement home costs 500€ per month.
We asked him for a solution to the problem we have with the Sinti and Romanies in Europe regarding mainly the lack of cleanliness which is a burden for our community members.
He mentioned that there are more than 50 groups of Sinti and Romanies and some of them have a bad reputation regarding cleanliness and tidiness. And this is the problem, he said and showed around. Look how clean and tidy it is in our community.
We could only nod in agreement.
He said furthermore:
The public authorities and the social welfare office in Germany should not assume that any group of Sinti and Romanies would listen to any advice other than the rules and obligations coming from their baron.
We asked where we could meet such a "chief".
Our interlocutor answered that once a year all the chiefs gather somewhere in the world to talk about current topics. We told him that we would really love to join such a gathering.
Thereupon the promise was sealed with a handshake and we were cordially invited to join. It will be very exciting for us.
We gladly accepted the challenge and then we thought about overtaking a Romanies house with the help of the baron to develop a plan together with the Romanies residents how the living together can be easier arranged. I'm afraid at this point they were thinking that we were totally naïve.
It turned out during the conversation that our interlocutor is the minister, respectively like he said, the presbyter of a Romanies religious community which is scattered in the whole world, mostly in the US.
As we said goodbye after the long conversation everybody was so nice and declared that they would be happy to see us again some day.
Today's schedule was a bit tight. Directly afterwards we had an appointment with the priest of the Orthodox church in Covasint. He is also the personal employee of the Orthodox bishop in Arad. Here a short remark: 90% of the Romanian people belong to the Orthodox church.
Again we were greeted very cordially and at first we went down into the wine cellar. Willi has known the priest for 20 years. After the visit to the wine cellar we went into a large room with a lot of pictures and cultural pieces like traditional costumes and tools. We immediately realised how committed the priest is in his work to help the Romanian youth but unfortunately not the Sinti and Romanies teenagers.
He wanted to organise several project together with the Romanies but it never was put into practice. Furthermore he told us to save our money and commitment because it all wouldn't make sense. He said very explicitly that he considered the Romanies as not worth it and that they were too bold and that they allegedly insult him and his religion even in his own house.
We asked for their reasons. We know that the Romanies women often work in the houses of Romanian families and that these houses are by far bigger and more stately than their own houses. We suggested that the Romanies might feel discriminated but the priest denied that. He feared that the Romanies would destroy the reputation, the culture and the faith in Romania.
We realised at this point that this conversation wouldn't lead us far and that the Orthodox priest would not campaign in our project under any circumstances.
After an exciting day we went back to our guesthouse full of thoughts regarding all the interesting encounters.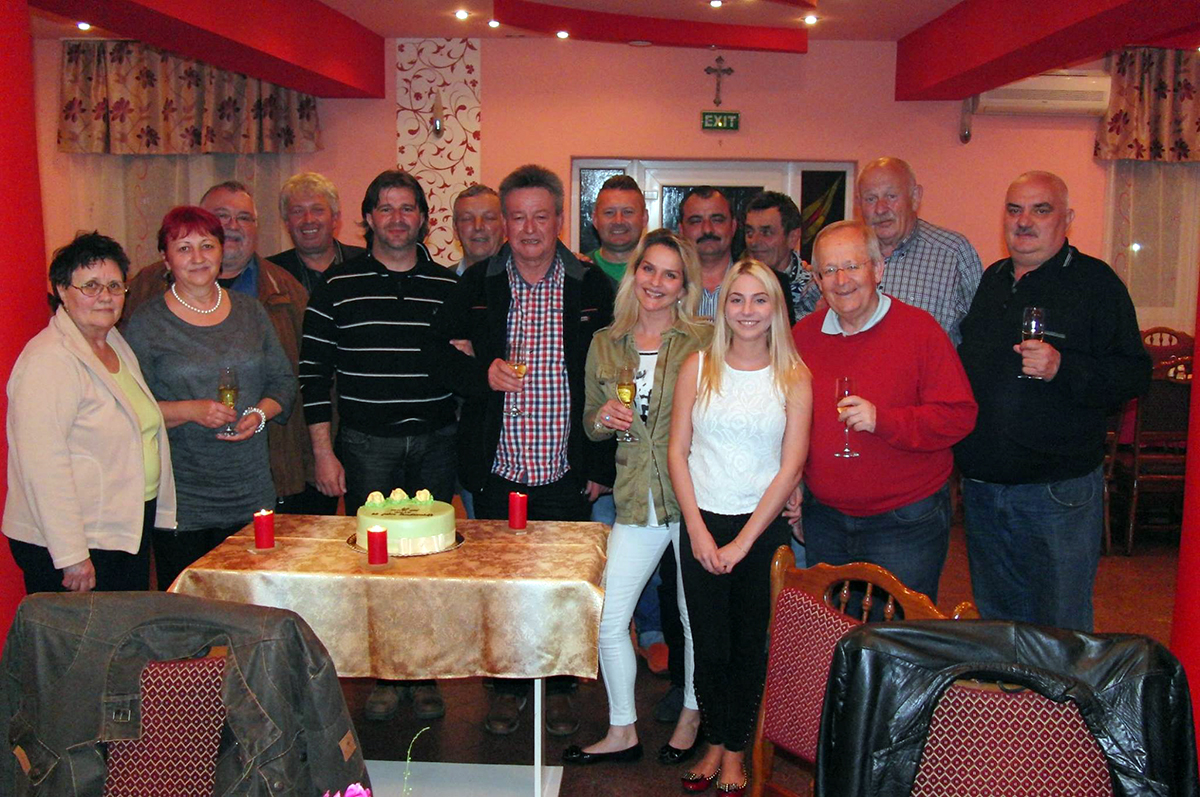 The day ended with our traditional Friendship Community reunion which always takes place at the end of the week abroad. The Romanian and Saarland friends enjoyed the atmosphere together and were finally able to relax a little bit from the exhausting day.