Tahrir Square (Midan at-Tahrir - "Liberation Square")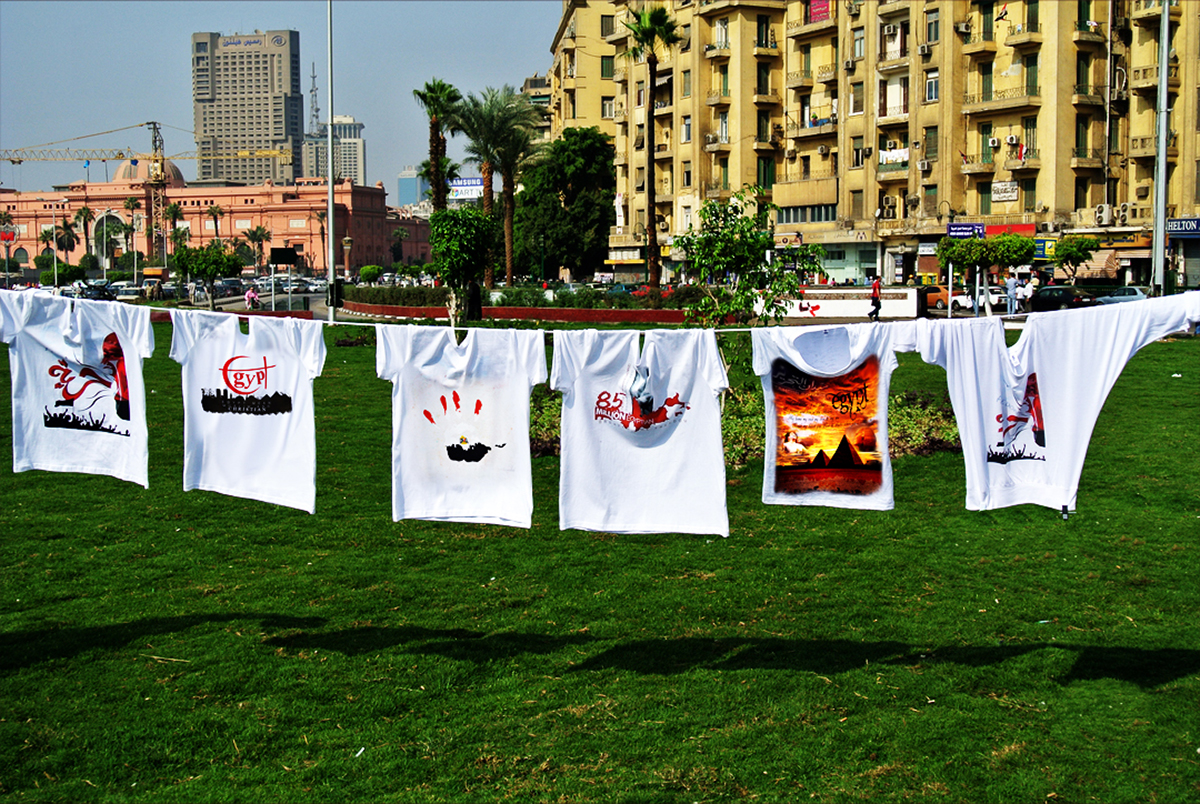 Winner shirts from left to right: Freedom (Mahmoud Ibrahim Mahmoud Ahmed), Muslim and Christian (M.I.M. Ahmed), Hand (Reem), 85 Million (M.I.M. Ahmed), Tahrir (Aya)
First day – 01/11/2013
Everything went to plan on our trip to Cairo – until we left the airport. That's when it started. The first security check, in the middle of the street. Two tanks left and right. Only a narrow way through. Everybody was checked every 2 km. No one can enter the city without being checked.
A state of emergency had been declared. A curfew was imposed. We had never experienced anything like this. Were we frightened? Yes! One of our team was crying and we asked ourselves whether what we were doing here was right.
Beside our car: Three vehicles transporting prisoners, just like one sees on TV. People sticking their heads through the bars, looking into our car. Empty, desperate faces, full of fear. Eyes you won't easily forget. At this moment we realised that what we were doing here, was right and that sometimes, one needs to take a high risk – even to risk one's own life.
While we were driving through Cairo, we could feel that the heart of the city was dying. The city's pulse was not beating like it was supposed to. When we arrived at the hotel, we realised that we were almost the only guests staying. We ate and went to bed, as we were exhausted from what we had seen.


Second day – 02/11/2013
After breakfast we met Mahmoud, our designer and project manager. He had won our competition. Mahmoud got involved in our project after the competition in Cairo. We have a professional, loyal and competent designer on our side.
Then our interpreter arrived. In this blog, we call him our guide, as we don't want to publish his name. He told us that he might be able to get a new job in Dubai. At the moment, there is no regular work in Cairo, or in the whole country. Of course, the tourists stay away. The revolution was complicated, he said. Three groups emerged. The first group are the supporters of Morsi and the second group is the military. The third group is in the middle. This group consists of those who have no idea which group they should to belong to, as they do not want to be part of the first two groups. None of the first two groups, neither the Morsi supporters nor the military, were any good, said our guide. That's way there are fights and casualties among their own people. Dreadful. Our guide has lost colleges, who were simply on the other side politically. There is suffering through the separation and uncertainty. Many people ask themselves: Why so many deaths? The whole revolution, and for what? Many young people think like that.
Morsi was in favour of the dam in Ethiopia. International environmental and human rights organisations are fighting against this multi-billion dollar project on the river Omo. They believe the lives of half a million people were in danger – and a fragile ecosystem was threatened. Peter Bosshard, director of the environmental organisation International Rivers, predicts that if the natural flow of the river Omo was changed, the result would be famine and conflict among the tribes, who have lived from the river for thousands of years. The dams Gibe I and II already put "a lot of pressure" on the ecosystem. www.sueddeutsche.de – by Marcel Burkhardt. That's why some people didn't vote for Morsi again as it would result in less water in the Nile, causing huge problems. That's not what the people want. A lack of water leads to massive deficiencies and poverty.
Our guide believes that this is the main reason why the people started demonstrating. The military supported them at first. However, the military is now in favour of the dam. This split the voters into three groups. We could see that our guide was tired of it all. We continued working until late at night. At around midnight, we had to stop working, due to the curfew. After 1 am, no one is allowed on the streets.


Third day – 03/11/2013
After breakfast we started again right away. We discussed the donations of six euros. The Baraq team wanted to organise a soup kitchen in Cairo funded using these donations. However our guide believed that even if we gave out a thousand meals a day, it still wouldn't be enough to combat the hunger. More than a thousand were going hungry. Giving out meals could lead to fighting.
So we chose three projects. Project one… project two… project tree…
These are projects from organisations which have an excellent reputation in Cairo. That's why we chose these three projects. That doesn't mean that we won't do our bit in Cairo. However, what we can or can't do, depends on you. We can only offer our good will, courage, love and hope.
During all these discussions, we felt that we were visionaries and that we still needed thousands upon thousands more like-minded people in order to fulfill this vision. At the end of these debates we were satisfied with our outcome and now it is time to say goodbye.


Fourth day – 04/11/2013
Good Morning. Today, we begun again directly after breakfast. It was apparent that one of our team had been up all night, thinking. She had a great idea about how to photograph the T-shirts. Firstly, we wanted to organise a photo shoot with young people. But we soon realised that this wasn't going to be easy as many young girls don't allow themselves to have their photographs taken.
The new idea was to string a washing line between two trees. An alternative would be to have two people holding the washing line and the T-shirts hanging from the line. This event should take place in Tahrir Square in Cairo. Our guide looked at us. It was up to him to organise our passes. We told him it would make us very happy to show the square from another perspective.
This evening we left to buy a washing line. Luckily, we managed to find one. Everything was peaceful in the city. We had left the events of the previous day behind us. We noticed that we were almost the only tourists in Cairo. I ironically told our guide that finally the city belonged to the Egyptians themselves. He didn't find it very funny. The evening came to an end and tomorrow is another day.


Fifth day – 05/11/2013
We were very excited. After breakfast, we started working immediately. We were all extremely nervous, above all our guide. He had to organise everything. We set off and stopped at the police station. They sent us to a second police station and finally we ended up at the police and secret police.
One of our team started praying in the car. She prayed: Dear father, please help us succeed at Tahrir Square. You have fulfilled all our other wishes. Our designer Mahmoud said that if it is god's will, we will succeed. With that we knew that if we didn't receive our passes, they would no longer believe in this project. It was a huge burden on us – these thoughts of Mahmoud!
Let's not beat around the bush. Our guide set off. We were still considering whether one of our team should accompany him. But at first, he refused. Then he returned. We watched him cross the street. He opened the car door, looking very serious and said: Come with me. Before he had left, we had told him to ask whether they wanted to see the T-shirts.
One of our team went with him. With the T-shirts under one arm, our guide told me that he had had to hand in his licence to be a guide. For him that was the worst thing that could have happened. One could see he was on edge. We crossed the street and went round a corner. The regular police and the secret police were sitting there. We showed them our T-shirts. They looked at one of the T-shirts very closely. We weren't allowed to take this T-shirt with us. Of course I asked, why? He said, this is a hand. The four fingered symbol of the Morsi supporters. I said: But this one has five fingers. Doesn't matter. I realised, it didn't make sense. I would put the project in danger. I left the T-shirt there.
Everybody got out of the car and we left. We took our washing line with us to the Tahrir Square. Thank god that there was a policeman who was helpful. At this point more people arrived at Tahrir Square to see what we were doing. The policeman simply started hanging the T-shirts out on the line. I thought: Wow, he is fast.
Thank god! When some of the T-shirts were hanging on the line, more and more people arrived and began talking to us. The wind was blowing. We couldn't start the photo shoot straight away. We succeeded in taking two photos. Then the police arrived and immediately took action. With a tone of seriousness, they broke up the event . We didn't know whether any of the photos would come out. However, there was nothing we could do. If we had questioned them, they may have taken everything and delayed us for a long time.
We were very sad. So, now we had to go to the secret police again to get our guide's licence back. We were all extremely nervous. Our guide was worried about his licence. I asked him whether I should go with him. He said, yes. I kept telling him not to worry. We would get his licence back! We crossed the street again and went round the corner. They were sitting there, looking sternly at us. They asked us, what did you do there? They thought we would put the T-shirts on and then take some photos. No, I answered, how do you suggest we do that? I am wearing my clothes. Where should I get changed? Nevertheless, our guide got his licence back. I asked the police whether they would like to keep the T-shirt with the five-fingered hand, it would be a present. He smiled at me and gave it back. It was a game of seriousness, sympathy and prohibition.
However, with the help of our prayers, we had succeeded. Our guide and the whole team had the courage and drive to follow this path. We were completely moved by the whole affair.
We went back to the hotel to contemplate our next move. It was now twenty past midnight. Our designer and the guide had to leave us due to the curfew, otherwise they wouldn't have been able to get home. See you tomorrow. Goodnight.


Sixth day – 06/11/2013
This was not a good day. Our phone rang and we were told that the airport shuttle was waiting for us at the door. Our flight was not on Friday as scheduled. We had to act quickly. We were very very sad about the news. Well, now you have experienced what has happened to us. We wish you all the best. Your Baraq team.
Enjoy our range of T-shirts and with winner from Cairo.
Choose an emoticon!